Frankincense incense stick al-lubān'Umān
Natūralūs rankų darbo smilkalai iš Omano al-lubān'Umān
Smilkalai pagaminti iš unikalios Dofaro dykumos bosvelijų (Boswellia sacra) dervos, dar vadinamos frankincensu (Vakarų šalyse) arba ladanu , olibanu (Rytų šalyse).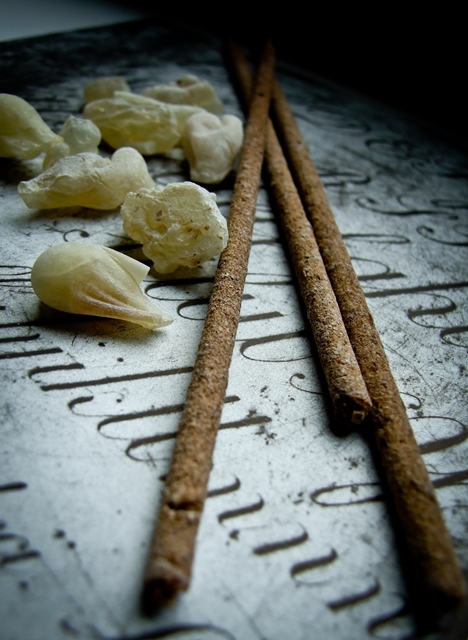 Legendiniuose Dofaro smilkalų slėniuose kasmet renkama žalsva, ypatingai kvepianti bosvelijų derva. Derva kruopščiai perrenkama ir surūšiuojama:
dalis jos distiliuojama, ir gaunamas nepaprastai gaivaus, skaidraus, tiesiog slėpiningo kvapo Omano frankincenso eterinis aliejus;
pati kokybiškiausia derva, ladanas, parduodamas grynas gabalėliais, naudojama smilkymui;
iš smulkiausių dervos likučių, kurie yra sugrūdami į miltelius ir sumaišomi su vandeniu bei įvairiomis kvapnios medienos dulkėmis, gaminama vienalytė pasta.
Šia pasta specialia mašina (anksčiau tai buvo daroma rankomis) padengiamos plonos bambuko lazdelės. Tada smilkalų lazdelė paliekama maždaug parą džiūti, o po to dar nudailinama rankomis.
Šios omaniečių frankincenso lazdelės neturi anglies, kuri paprastai dedama į daugelį indiškų smilkalų (ir praktiškai į visus sintetinius smilkalus, kurie gaminami chemikalų mišinyje išmirkant anglies lazdelę).
Šių itin švelnių ir maloniai kvepiančių frankincenso lazdelių dūmas ramina, nuskaidrina mintis, todėl jos deginamos maldos vietose, atliekant dvasines pratybas ir per įvairias religines šventes. Pagarba svečiui irgi reiškiama paduodant pakvėpinti smilkyklę su frankincensu.
Pasak Dofaro slėnio smilkalų rinkėjų ir Omano sostinės Muskato gyventojų, frankincenso smilkalai ir dervos dar naudojami namams, gyvenamajai aplinkai kvėpinti ir taurinti, taip pat kasdienėje buityje, ypač drabužiams ir drabužių spintoms smilkyti. Viešose vietose statomos didelės smilkyklės.
Be to, su frankincenso lazdelėmis galima nuslopinti nemalonius virtuvės kvapus, atbaidyti vabzdžius.
Frankincensu įprasta pasismilkyti — tai ypač mėgsta moterys — ir pirtyse, nes jis gražina ir stangrina odą, gerina plaukus.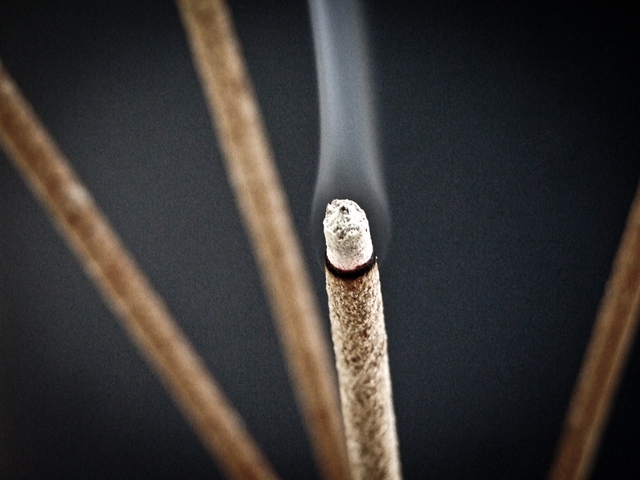 ---
Dofaro dykumos frankincenso derva yra žinoma nuo pačių seniausių laikų, kai ji karavanais buvo gabenama į aplinkines šalis: Babiloną, Egiptą, Kipro salą, Graikiją, o vėliau ir Romą.


Ji buvo naudojama kone viskam — karališkoms iškilmėms ir religinėms apeigoms, faraonų kūnams balzamuoti, žaizdų ir vidaus organų gydymui, kosmetikai, kvepalams ir maistui bei gėrimams kvėpinti.

Aukščiausios kokybės šviesiąją frankincenso dervą galima ir kramtyti. Omaniečių teigimu, tai pati geriausia higieninė kramtomoji guma. Vieno ar dviejų gabalėlių pakanka ilgam laikui, ir visą laiką, kol kramtysite, burnoje išliks malonus ir gaivus kvapas. Frankincenso kramtymas padeda ir virškinimui
Keli klausimai Dofaro slėnio smilkalų rinkėjui...
Dofaro slėnio gyventojai itin saugo ir prižiūri bosvelijas, nes jos jau tūkstančius metų šiems žmonėms ir jų šeimoms teikia pragyvenimą, palaiko dykumos ekosistemą.
Vienas omanietis, pelnantis duoną iš bosvelijų ir jų frankincenso dervos, sutiko atsakyti į kelis mano klausimus.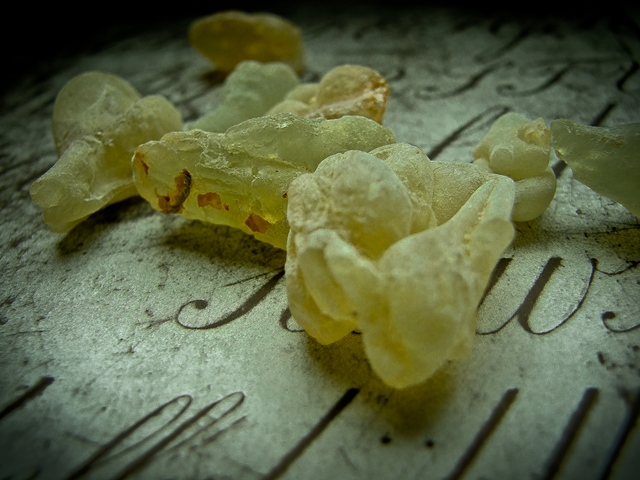 L. Kodėl viena jūsų frankincenso derva yra žalia, o kita — skaidri ir šviesi?
M. Žalioji derva, dar vadinama skaistmedžio (Virgin tree) derva, yra unikali. Ją gauname vienintelį kartą, kai pirmą sykį yra nukerpama jauno bosvelijos medelio viršūnė. Kitas savybes lemia aplinka, kurioje medelis auga, oro sąlygos, dirva ir paties augalo genetika.
L. Kada renkate dervą, pavasarį ar rudenį?
M. Dervą renkame vasarą. Šiluma padeda lengviau tekėti medžio syvams.
L. Ar rinkimo laikas turi įtakos dervos kokybei, kvapui, spalvai?
M. Ne. Viskas priklauso nuo aplinkos sąlygų. Renkant kitu metų laiku tiesiog būtų mažas derlius.
L. Kvapu ir išvaizda jūsų frankincenso smilkalų lazdelės labai skiriasi nuo indiškų smilkalų. Kas tai lemia?
M. Dažnai į Indijos smilkalus dedama anglies, kad jie geriau smilktų, o neretai Indijos smilkalai gaminami iš įvairių medienos pudrų, o kvapas išgaunamas eteriniais aliejais. Mūsų smilkaluose nėra nei anglies, nei eterinių aliejų, tai visiškai unikalūs smilkalai pasaulyje.

Kalbėjosi Laimė Kiškūnė,
Kvapų namai, 2012
 
Daugiau apie dervas ir jų poveikį skaitykite straipsniuose "Kvapiosios dervos- šventų medžių ašaros" ir "Dervos ir jų smilkymas".
Nuotraukos Veronikos Gribauskaitės
100% natural ingredients.
Who bought this also bought